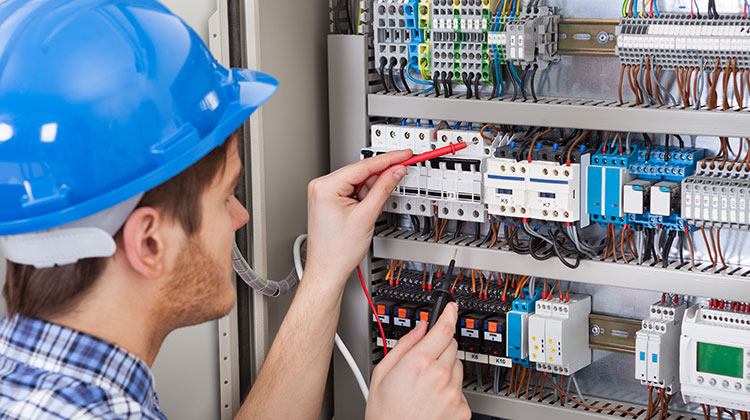 Changing light bulbs is something simple enough for me to handle. The larger light bulbs can be a little scary though and I feel I need to call someone. Have you ever tried to rectify a power situation and felt uneasy about doing it yourself or even shutting down the power? In times like I those, I think we may need to get an electrician. I would trust my gut and not touch beyond my comfort zone. Electricians are beneficial for multiple reasons, they are trained to deal with high voltage, they understand wiring, and they can possibly save us some cash with an evaluation.
High Voltage Training
To be honest, even being in close proximity to a high voltage box makes me nervous. I don't know if it's the lightning bolt on the sticker or the red black and white combination. It all makes me stay away. Maybe it's because I don't understand it. I've had quite a few jobs where I've seen a licensed electrician shut down the feed to very large buildings and very small rooms. They always seem so comfortable working around that stuff, and that's because they are well trained. They know what it takes to make their work environment safe. They understand how much energy is needed to power large and small items and they are known to even trace out a shortage in power.
Understanding Wiring
Sometimes my electricians would need to work above the ceiling tiles to complete a repair. Occasionally I would get a picture of a junction box that they are disgusted with, demanding answers on who wired stuff together up there. They have an eye for things that don't look right. They know how to reroute power and bypass things to make others work. If you're having something short out at home, it may be a good idea to get an electrician in there to see what's going on. You may have too much of a power load on a single circuit. That's something I would hear a lot. Space heaters short out power, but also microwaves, coffee makers, and computers on the same circuit can be tough to pull off in certain situations.
Cash Saving Evaluation
If your electric bills seem unfairly high you may need an electrician to come out and evaluate your power usage. Maybe there is power being pulled from somewhere that you aren't aware of. They can evaluate the situation and also help you come up with a plan to not use so much power and get your electric bill down. Energy savings is a huge help, especially in the hotter months of the year when you are already running your air conditioner most of the day. Get an evaluation, see what you can save. When I did it I just researched electrical services Las Vegas NV.
Conclusion
Electricians are our friends. They keep us safe by taking over these dangerous situations that involve electricity. They are knowledgeable about these situations and its good to have someone you can trust. Their training helps them handle problems large and small, they understand wiring and can find solutions to getting something up and running even when chances are slim. They can also save us money in the long run by evaluating our power usage versus power needs. If you need electrical help, get out of harm's way and contact an electrician.